I had some girlfriends over yesterday for brunch. Everyone was required to bring a dish and a project to work on. It was a lot of fun! We have already talked about making it a regular thing, and even focusing on a particular project. Henna, Sewing, Candle Making, etc. The weather was beautiful and I opened up some windows. We had a lot of food and a lot of drinks to keep us content. It was nice to have a girl chat and then be totally quiet as we focused on our work. A few friends painted, we had some decoupage going on, and an exasperated origami project.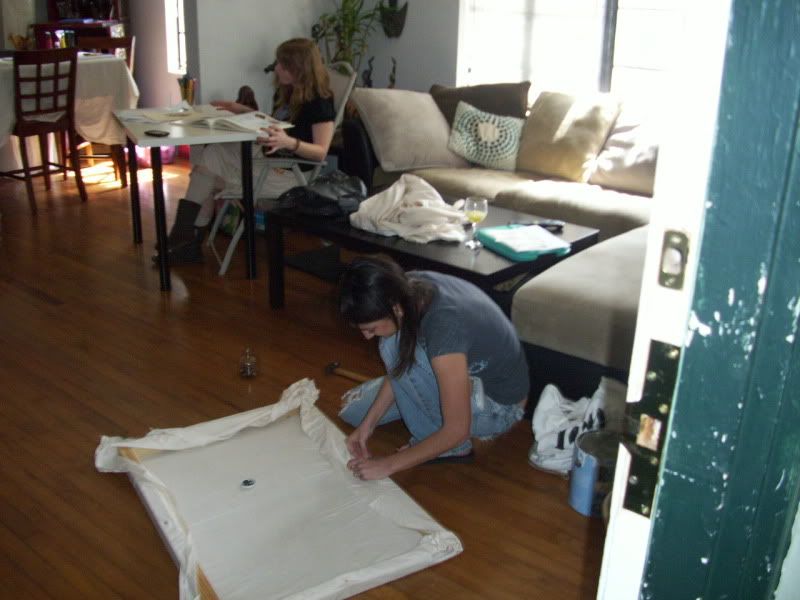 My friend Molly seen in the pic above was doing a test run of another project we are going to undertake. When we had my
b-day party
a few months back, one of the materials we used was about 50 yards of muslin cotton. Now that is a lot of fabric, and I've been trying to come up with some ideas of what to do with it (drawer sachets, dolls, curtains). A few of us thought of stretching it and using it as a canvas. So that is what Molly did. Took her a bit of time but she put a few layers of gesso on it and it looks as though it is going to hold up well. Here's Molly about to start painting it...
It is a work in progress so there is after picture to show. I started work on a great project, but its not complete yet so I will save it for another post. I just have to put some finishing touches on it. That's what happens when you are the host, you are the last to start :)